Sojitz Corporation and Sunshine Gas
Overview
Liquefied Natural Gas plant and export facility (1 million tonne per annum) at Fisherman's Landing near Gladstone, and feed gas pipeline from Gladstone City Gas Gate to plant

site, for proponents Sojitz Corporation (Japan) and Sunshine Gas (Qld)

RLMS developed and implemented the approvals strategy, and prepared the Initial Advice Statement, draft Terms of Reference and Environmental Impact Statement (EIS) documents.
Location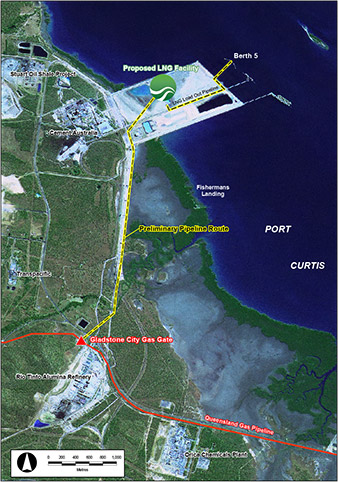 Detailed Service Summary
RLMS coordinated the initial corridor and site selection process as well as constraint mapping.
RLMS prepared a regulatory approval strategy for the Project and facilitated the Environmental Impact Statement (EIS) process with the Client and the Office of the Coordinator-General.
This EIS process included the preparation of an initial advice statement, EPBC Act referral, development of Terms of Reference and preparation of an EIS.
RLMS managed sub-consultants that completed specialist studies required for the preparation of the EIS.
RLMS engaged the Office of the Coordinator-General to meet suitable timeframes in order for the Client to manage risk to the Project and finalise the required environmental approvals in a timely manner.
The RLMS Land Team identified in-field constraints and landholder input resulting in site refinement as well as facilitating access to land for geotechnical and environmental investigations.
RLMS prepared the GIS mapping required for the preparation of all environmental reports and in-field activities.